Our Open Home Visitor Tracker makes capturing your visitor details easy, with a beautifully simple tool that focuses on touch. Combined with our online Vendor Reporting tool, the Visitor Tracker is the best way to capture visitor details at your open homes and report their feedback to your vendor in real-time. Our Visitor Tracker has been in use by hundreds of agents over the last year since we released it, and is the most reliable way to capture visitor details directly into iDashboard.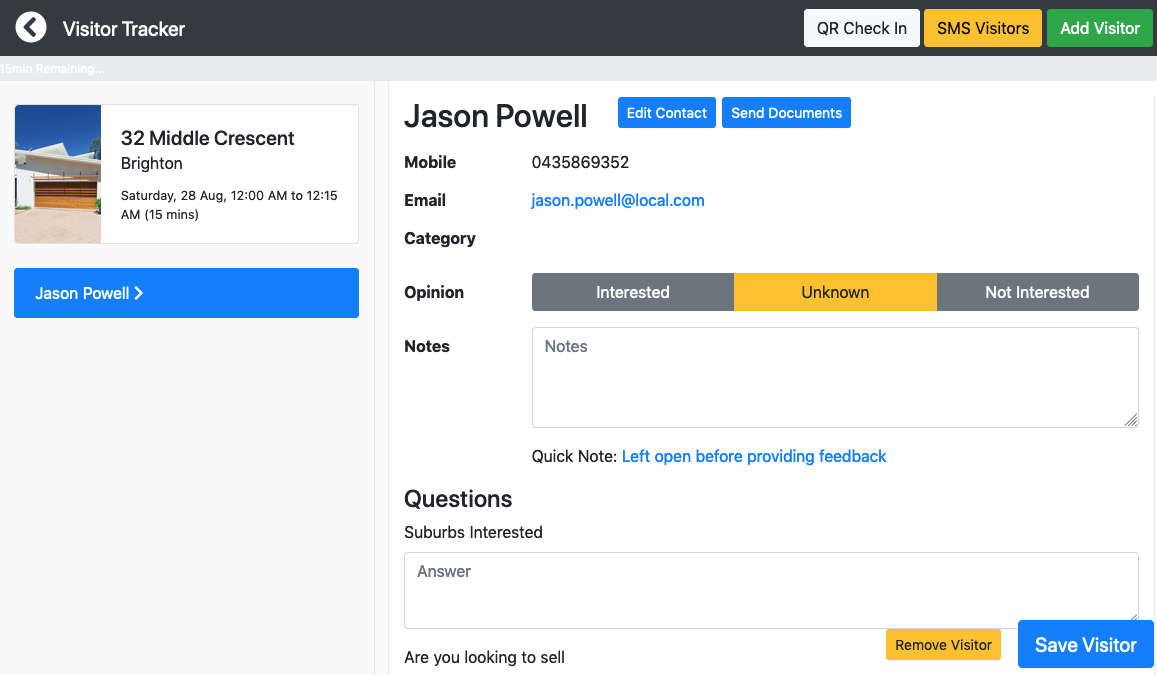 QR code self check in is now available! Find out more by clicking here.
Features
Timer and progress bar at the top of the screen, counting down the minutes remaining for the open home.
Quickly add existing contacts as visitors, with search support for name, email and mobile.
Create new contacts, with a "quick create" from search results if the person doesn't already exist in your contacts database.
Edit your contacts after adding them as visitors, such as adding or updating key contact details and contact categories.
Add your visitors opinions of the property, either Interested, Unknown or Not Interested.
Record notes, with 10 "quick notes" we have created from 10 years of anonymised note data.
Track visitor answers to your own customisable comment or yes/no questions.
Save warnings to make sure you save your existing visitor before loading another visitor.
Send documents you have attached to the property, such as a contract or inspection report.
Multi-agent support, allowing unlimited agents to track visitors on different devices for a single open home, which updates the visitor list for all participating agents.
Tap the property on the visitor screen to get vendor contact details and other key property info, such as the listing search price, land size and building size.
New admin setting to prompt the agent at the start of the open who should automatically be added as the owner when creating a new contact.
Be notified on-screen in real-time of repeat visitors to the same property.
Remove visitors if you accidentally add the wrong person.
New admin setting for "Default Contact Categories" when creating a new contact.
How do I get it?
The Visitor Tracker is available to all iDashboard users on a full-package subscription. To access the Visitor Tracker simply login to iDashboard and click in the top left corner of the Dashboard screen – there is no app or special download required.
Before your first open home...
Make sure your open homes are visible
Start off by logging into your iDashboard account and clicking the Wizards button on the Dashboard screen: make sure that all of your future open homes are appearing. If an open home time is not showing, then the open home time may have the incorrect open agent assigned to it on the property.
Review your open home questions
These can be found in iDashboard under Admin & Account Settings > Company > Open Home Questions. These questions will appear on all open homes for all agents and are completely optional when adding a visitor to the open home. Questions can have either a comment or yes/no answer.
Practice! Practice! Practice!
We recommend you go into an upcoming open home and practice adding visitors, changing the opinions, answering questions and removing the visitors. Practice makes perfect and it is vital you familiarise yourself with the Visitor Tracker before you use it at an open home with real visitors.
Make sure your device has internet
Ensure the device you are going to use to record your visitors has a 4G/LTE connection OR test out connecting your device to the hotspot feature of your phone. Make sure your device is not connecting to your office WiFi during your tests.
Carry a spare charger
Make sure you have a spare charger and charging cable for your device that you can dedicate for use at open homes. We recommend getting a 3m to 5m charging cable, or better yet get yourself a power bank for portability.
Have a fallback plan
Make sure you have a manual fallback procedure to record your visitors, such as a visitor form or visitor log book. Whether your device runs low on power or an internet connection is not available, you should always have a manual procedure in place ready to go.
Some things to keep in mind...
An internet connection is required
The Visitor Tracker is an online product so you'll need a WiFi or 4G/LTE connection to access and use it. This can include a tablet with built-in 4G/LTE or connecting your device to the hotspot feature on your phone.
Any tablet or mobile device is supported
The Visitor Tracker can be used on any tablet-sized device and up; such as an Apple iPad, Microsoft Surface or Samsung Galaxy Tab, other Android tablet or laptop (a touch-enabled device will give you the best experience).
No more sync
If you previously used iDashboard for iPad, you would remember the need to sync your data. The Visitor Tracker within iDashboard does away with sync, so there is no need to "open to sync" before you leave the office.