The diagram below outlines the status flow of both Sale and Rental properties. All properties must start off in iDashboard as an Appraisal.
Sales may have a status of Appraisal, Listed, Under Contract, Sold or Settled. Rentals may have a status of Appraisal, Listed, Under Application or Leased.
Sales and Rentals can both me marked as Lost, Rejected, Withdrawn or Historical.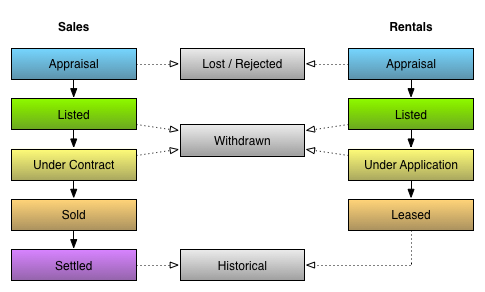 Definitions & Considerations

Lost - The vendor decided to list with another agency
Rejected - The vendor has decided not to sell
Under Application - Rentals only. You have received an application for this rental, your property will continue to appear as a regular available listing on websites
Sold/Settled - Sales only. Your property will simply appear as Sold on websites. It is entirely up to your office as to when you consider a property 'Sold' and 'Settled'.
For more information on how to change the status of your property, please refer to this article.