IMPORTANT:
The email account keeping fee does not cover assistance using Microsoft Outlook or any other email software. For assistance using the Samsung Galaxy S2 for email accounts, please refer to Samsung or your internet provider.
Below is a guide we have authored on how you can setup email accounts on your Samsung Galaxy S2, if you get stuck with this, you may need to give Samsung or your phone provider a call for assistance.
Touch Apps

and then scroll to and touch Email

. If you have not set up an account already, an email setup screen is displayed.
Enter your Email address and Password.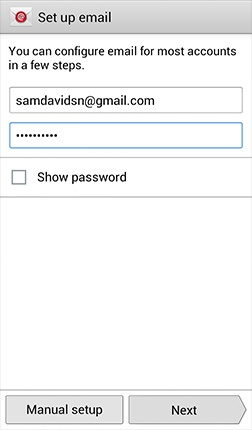 Touch Next and follow the on-screen prompts, and your device will complete the setup process automatically, if your email server settings are available. Touch Manual setup to manually configure your connection settings. The information required will vary by email provider. If your provider's settings are not automatically loaded, you will be taken through the following steps.
Select the type of email account you are setting up. You may choose from POP3 account, IMAP account, or Microsoft Exchange ActiveSync®. You will need to select POP3.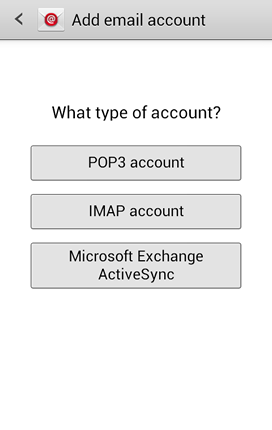 Enter the following details.
Username: enter your full email address
Password: your email password
POP3 Sever: this is your incoming mail server (example: mail.mydomain.com.au).
Security Type: Set this to TLS.
Touch Next.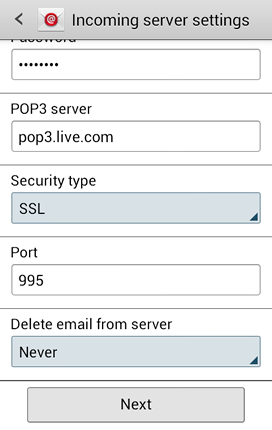 Your device will attempt to connect to the incoming server with the settings you have entered. If unsuccessful, you will be prompted to Edit details; confirm your settings and try again. If the connection is successful, you will be taken to the Outgoing server settings screen.
Enter the following details.
SMTP Server: this is the outgoing mail server which should be set to your Internet Service Provider for you phone (example: mail.myISP.com).
Security Type: none
Require sign-in: unticked
Username: leave empty
Password: leave empty
Touch Next.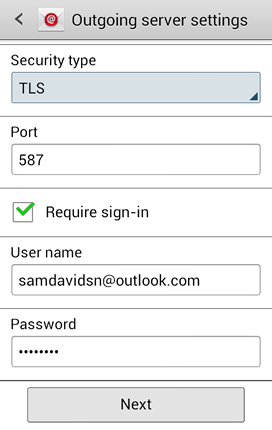 Select your Account options and touch Next.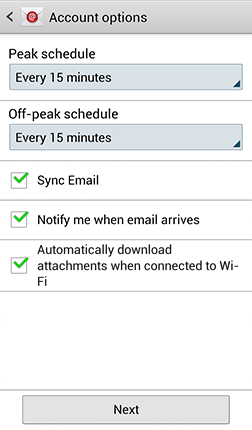 The first time you connect, you are asked to give this internet mail account a unique on-screen name and enter Your name. The unique account name is used to differentiate this account from other email accounts on your mobile device. Touch Done to complete the setup process.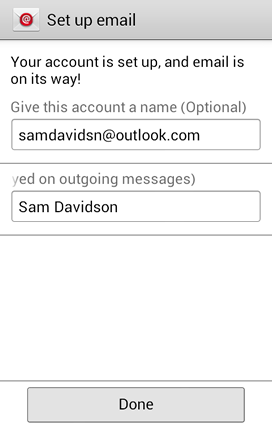 See Outgoing Mail Servers for a list of some Australian ISP outgoing mail servers.