IMPORTANT:
The email account keeping fee does not cover assistance using Microsoft Outlook or any other email software. For assistance using the iPad for email accounts, please refer to Apple or your internet provider.
Below is a guide we have authored on how you can setup email accounts on your iPad, if you get stuck with this, you may need to give Apple a call for assistance.
Firstly, open up your settings, and select "Mail, Contacts, Calendars".
Select the "Other" option as shown in the below screenshot.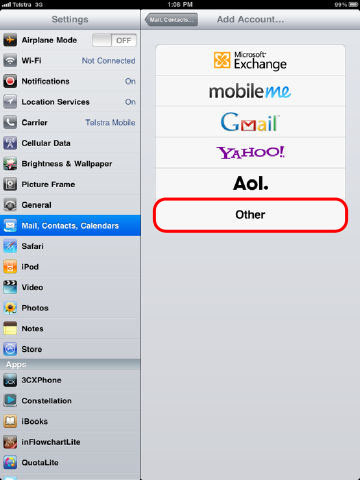 Now select the "Add Mail Account" option as shown in the below screenshot.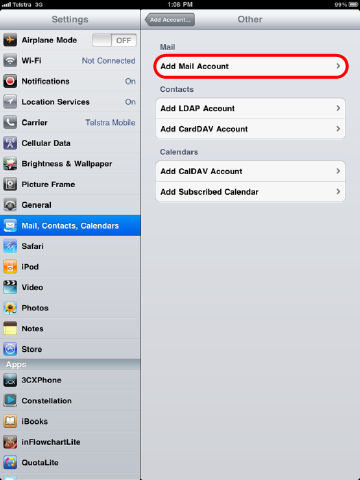 Fill out the form that pops up, and then click the "Next" button.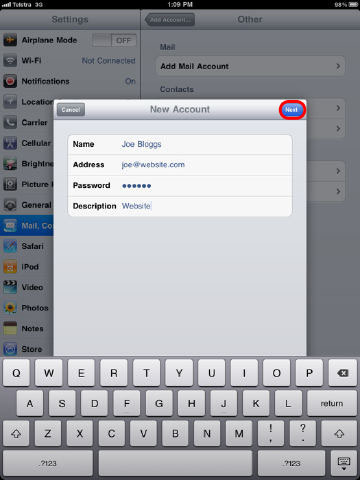 Make sure that POP is pre-selected and enter your Incoming Mail Server information.
Host Name: as advised by iProperty (generally mail.yourdomain.com.au)
User Name: Enter your full email address as your user name.
Password: Enter your password for your email account.
Enter your Outgoing Mail Server (SMTP) information (your mobile data provider details)
Host Name: as per your provider
User Name: leave this section blank
Password: leave this section blank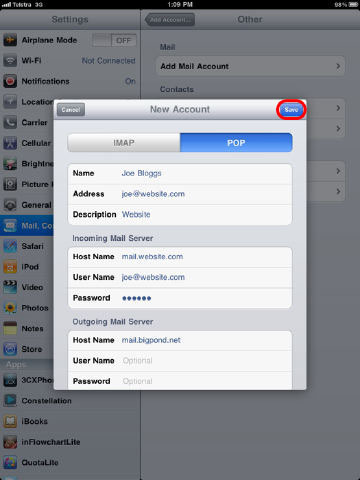 Tap Save and confirm settings.
If this does not work please refer to your iPad / iPhone® or mobile service provider.
See Outgoing Mail Servers for a list of some Australian ISP outgoing mail servers.