IMPORTANT:
iProperty email account service fees include hosting and management of emails through our dedicated servers. All necessary details required for the account will be provided to the account holder and include password, username, incoming and outgoing mail server. Any additional assistance required for setting up third party software should be directed to the support team for the software provider. Services that can be purchased in addition to the hosting account include a once-off set up fee where a support staff member can guide you through the email set up using Microsoft Office. This is ONLY applicable during the set up of the email account and does not apply to pre-existing email accounts.
Select the 'File' menu.
Select Info.
Click the Add Account button.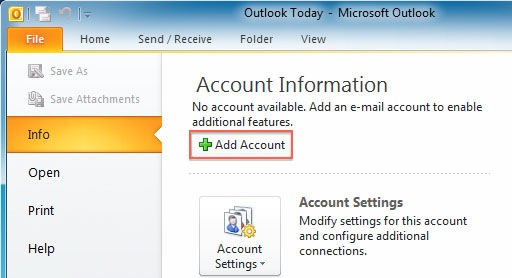 Choose to Manually configure server settings.

Click Next.
Choose Internet E-Mail.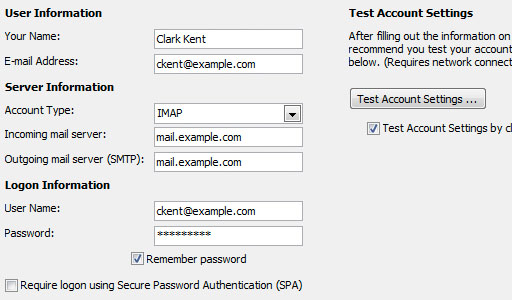 Enter your name as you want it to appear on your outbound email messages.
Enter your email address.Enter your full email address as the User Name.
Enter your email password.
Your mail server is mail.YourDomain.com, eg mail.example.com.
Enter your ISP mail server details in the Outgoing mail (SMTP) server field.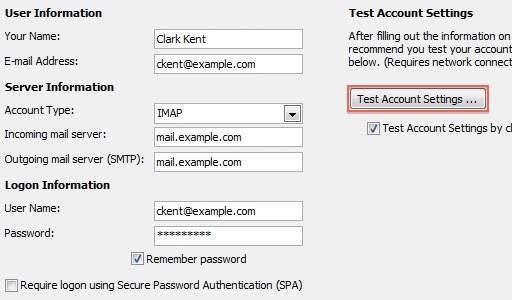 While on the E-mail Accounts screen, click the Test Account Settings button.
This will both check your settings and send a test email to yourself to confirm that everything is working. If you receive any errors, please check your configuration.
Click the Close button on the Test Account Settings window.
Click Next on the E-mail Accounts window.
Click the Finish button.
See Outgoing Mail Servers for a list of some Australian ISP outgoing mail servers.